Mixing and matching Chinese 2.4GHz radio control equipment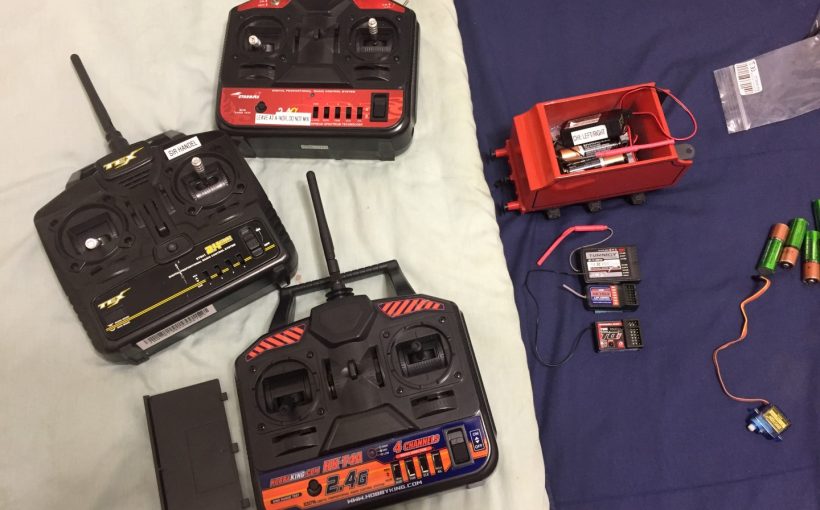 Post last updated 5/11/2018 - E-Fly ETB62/ER61 and ESKY ET4 results added
--- This article is regularly being updated as I purchase transmitters and receivers. Some entries in the table may be blank pending arrival of new acquisitions. Please check back frequently. ---
Unlike the days of AM or FM radio control, 2.4GHz RC controllers don't have crystals that allow you to match up your receiver's frequency with that of your transmitter. What's more, most systems on the market today are proprietary, so mixing and matching isn't really an option anymore (with exception to some standardized protocols (DSM, DSSS, etc., as discussed in detail here on RCGroups.com).
But are they?
Since the 2.4GHz revolution, China has jumped on the bandwagon (what bandwagon don't they jump on?) producing scads of dirt-cheap transmitter/receiver combos - often shoved in nearly identical plastic casings, slapped with the brand name of whoever ordered them. Being a cheapskate bottom feeder, I tend to buy these controllers for the eye mechanisms for my models as I don't really need anything fancier than a cheap controller. This isn't always easy though, as deals on eBay are often mean you're buying the controller OR receiver, as someone blew up one or the other.
So - after getting a bit peeved that some brands are priced more than others for no apparent reason - I asked myself: Just how many of these Chinesium controllers share the same exact 2.4GHz protocol, regardless of label?
No actual database seemed to exist other than some passing comments on Flite Test's forums, so I started putting together a compatibility chart of my own. And so launched this project - the Cheapo 2.4GHz Compatibility Chart (C24CC?), because it's a lot easier to keep track of this than a pile of Post-It notes.
IMPORTANT! Use this documentation at your own risk. Obviously, I'm using it for harmless eye mechanisms from distances not exceeding 20 feet and recommend this sort of fandangling only for projects of this nature. Don't take these chances with anything that goes airborne or travels an extended distance from the operator. If you are not sure if this applies to you, take the time to read the article at RCGroups.com and learn about known protocol resolution, known issues, failsafe protection, range testing, and signal interference.
Compatibility table:
At present, this table is confined to what I have and what junk might be sitting around at the local hobby shop that they'll let me test. Not much for now, but it's a start. As I've noted above, this list will be updated as new equipment is acquired. Blank cells indicate something that I've bought, but haven't received yet. Since I have one, I threw a Traxxas TQi into the mix - not that I ever expect it to work with anything (but you never know).
E-Fly ER61
FlySky
FS-GR3E
FlySky
FS-R6B
HobbyKing
HK-TR6A*
Starmax
"Channel 8"
Tactic
TR324
TEX
ER62
Turnigy
9X8C v2
Traxxas
TQi
E-Fly ETB62 (WL9ETB)
✔
X
X
?
X
X
✔
X
X
ESKY ET4
X
X
X
?
X
X
X
X
X
FlySky FS-CT6B
X
✔
✔
X*
✔
X
X
✔
X
TEX ETB41
✔
X
X
X*
X
X
✔
X
X
HobbyKing HK-T4A*
X*
X*
X*
✔
X*
X
X*
X*
X*
Starmax 6-channel
X
✔
✔
X*
✔
X
X
✔
X
*I have reason to believe either my HobbyKing transmitter OR receiver is faulty, as they don't always bind with each other and will not stay bound. The HK transmitter won't bind to a FlySky receiver either, despite commentary online that has suggested otherwise. Faulty components aside, the FlySky FS-CT6B transmitter won't bind with the HobbyKing receiver either, but will bind with quite a few others. I have reason to believe the specific HK transmitter and receivers tested here, despite sharing nearly identical exterior shells - especially the receiver - use completely different protocols.
*** VISUAL IDENTIFICATION SECTION ***